Glowy skin has been at the peak of popularity as of late and if you are looking for products to make your skin glow, look no further! These 11 products will give you healthy, radiant-looking skin!
1. Pixi Glow Tonic
A healthy skin glow starts with the right skincare products, even the toner you use after washing your face can be the difference between dull and glowy skin. A product that I recommend is the Glow Tonic from the brand Pixi by Petra. Toner is a chemical exfoliant and this specific product contains glycolic acid as well as aloe vera and ginseng. These ingredients work to gently exfoliate the skin, lessen the appearance of pores, and improve the texture of the skin. I have found that after adding this toner to my simple skincare routine, my skin looks more radiant and fresh! You can find this product at a variety of stores, including Target, at a retail price of $29.
Shop this product: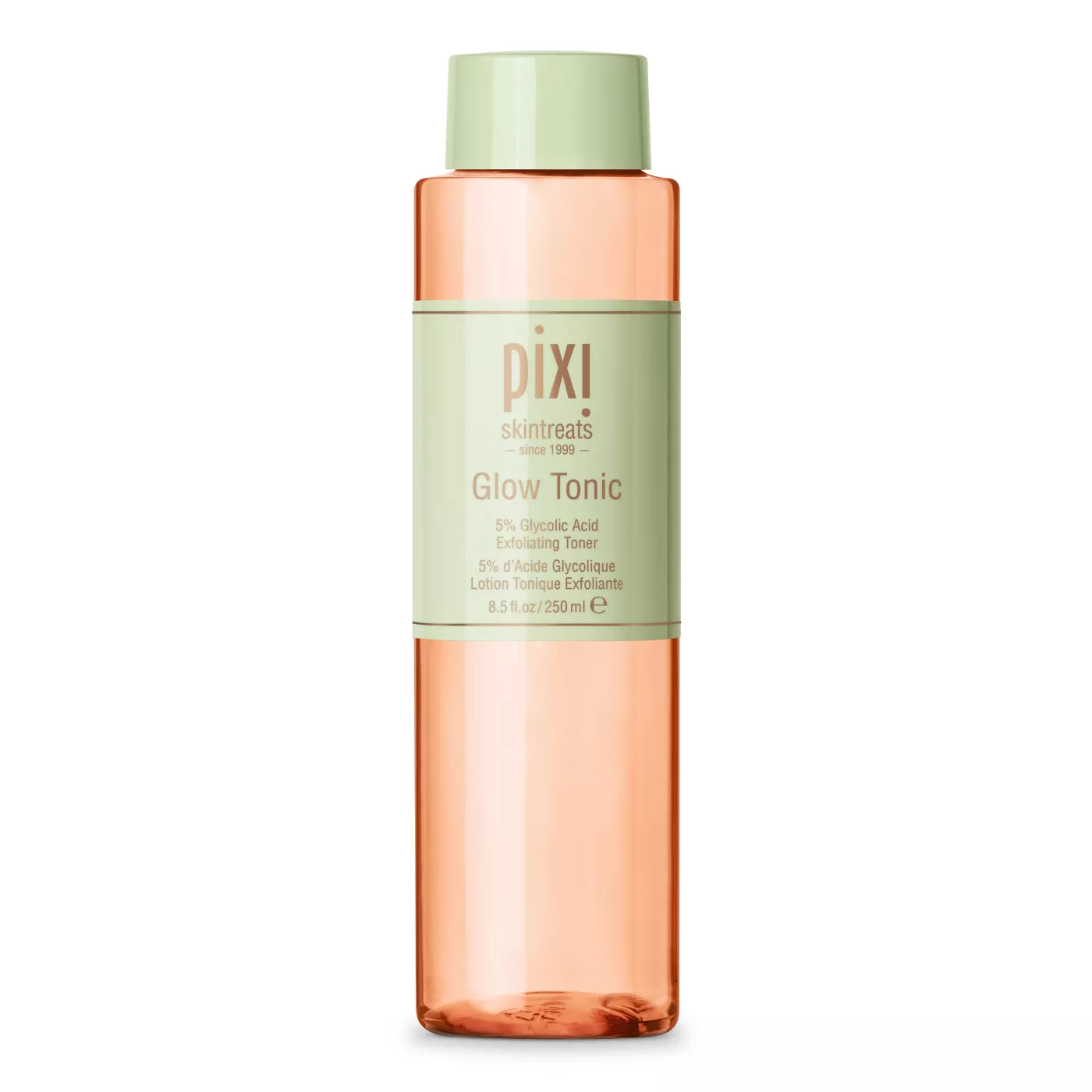 2. Hyaluronic Acid
Another wonderful skincare product with visible benefits is hyaluronic acid, which can be found in a number of other skincare products. However, a hyaluronic acid serum gives you a more concentrated amount of the acid, which hydrates the skin and helps to fill in fine lines. There are many options on the market for a serum of this sort, but one that has proved to be incredibly popular, and more importantly effective, is The Ordinary Hyaluronic Acid 2% plus B5 Serum. This product is perfect for those of you with dry skin, as it works to add moisture to dehydrated skin and gives the skin's natural barrier additional protection. At an extremely low price of just $6.80, this serum is definitely worth a try!
Shop this product:
3. Clinique Moisturizing Gelly
As you probably are aware, having properly moisturized skin is the key to getting that skin glow you are after. My personal favorite moisturizer is the Dramatically Different Hydrating Jelly by Clinique. This product is water-based, super light on the skin, and formulated with glycerin, which gives the skin increased elasticity, moisturizes of course, and is able to make the skin less susceptible to pollution damage. It is also fragrance-free, which is great for those of you with sensitive skin, as it will not irritate the skin. Retailing at $28, it is a bit of a splurge but is totally worth it! A single 4.2-ounce bottle of this product has lasted me approximately four months!
Shop this product:
4. Hawaiian Tropic Silk Hydration Sunscreen
We have heard it our entire lives, it is important to wear SPF. A sunscreen that works to lock in moisture and protect your skin from harsh Ultraviolet Rays is the Hawaiian Tropic Silk Hydration Face Sunscreen. Formulated with silk protein, shea butter, and SPF 30, this product is aluminum-free and will not clog your pores! It is super affordable, retailing at only $8.99 at Target and is produced without oxybenzone and octinoxate, which are chemicals that harm the coral reefs.
Shop this product:
5. Coppertone Glow Sunscreen
If you are looking to make your entire body glow, try out the Glow Sunscreen by Coppertone. This body sunscreen has tasteful, gold glitter, and a bronzing effect within its formula which gives the skin an iridescent finish. Formulated without parabens, this product hydrates and protects the skin, while giving you a fun shimmer finish that enhances skin glow. For the same price as the Silk Hydration Sunscreen from Hawaiian Tropic, $8.99, you can protect your entire body from sunburn while giving it a healthy amount of hydration.
Shop this product:
6. Neutrogena Hydroboost Body Gel Cream
Staying out of the sun but still crave hydration for your entire body? Check out the Hydroboost Body Gel Cream from Neutrogena. Formulated with hyaluronic acid, this non-greasy body lotion keeps normal to dry skin types moisturized all day long. Hyaluronic acid boosts the skin's natural hydration and helps to keep skin moisturized over time. The more you use it, the more moisture your skin will lock-in. Just $8.99 from your everyone's very store, Target, this lotion is sure to become a staple in your daily routine!
Shop this product:
7. The Body Shop British Rose Fresh Plumping Mask
A little self-care goes a long way, and my favorite way to practice self-care is by doing a face mask. This form of pampering is so relaxing and has benefits for your skin as well. The British Rose Fresh Plumping Mask from The Body Shop. As the name suggests, this product plumps the skin due to the rose essence, rose petals, rosehip oil, and aloe vera that it is within the formula. It is silicone-free, so you can feel good about putting it on your skin, and leaves the skin looking dewy and youthful. It feels like a luxury experience with the natural sources of fragrance and oils from Italy and Ethiopia, specifically honey, marula oil, and olive oil. This face mask retails at $28 for a jar containing 2.6 ounces and certainly a treat for your skin!
Shop this product:
8. Benefit POREfessional Hydrate Primer
While skincare is the foundation for a healthy skin glow, makeup is a great way to add luminescence! A makeup routine's first step is a face primer and the Benefit POREfessional Hydrate Primer is a wonderful option for you if you are in search of the perfect glow. You may have heard of the Benefit POREfressional Primer which has been on the market for a number of years, but this product is formulated with hyaluronic acid and shea butter to enhance moisturize, lessen pore visibility, and prime the skin for makeup. This primer is oil-free and lightweight, adding just the right amount of hydration without looking greasy. There are two sizes available of this product, the mini size which is perfect if you are just looking to try it out and is only $13. The larger option is $32, but is worth the money if you truly love the results that this product gives you!
Shop this product:
9. Covergirl Clean Fresh Skin Milk
The next step for perfectly radiant skin is a fabulous foundation or tinted moisturizer. If you are looking for a light coverage product that ensures a glowy finish, the Clean Fresh Skin Milk from Covergirl is a wonderful option. This cruelty-free product is formulated with coconut, aloe, and a light amount of SPF. This liquid foundation evens out the skin tone and has a dewy finish that lasts all day long! At the low price of $11, this foundation is just as affordable as it is gorgeous.
Shop this product:
10. Essence Pure Nude Highlighter
Highlighter is probably the first makeup product you think of when you want to give yourself an extra bit of glow, and for good reason. The Essence Pure Nude Highlighter is a nice, extremely affordable option, retailing at just $4.99. This product comes in two shades, champagne and a golden, and a palette including four shades of highlighter is also available. This product adds a natural-looking highlight to the high points of your face, and another plus is that it is not tested on animals!
Shop this product:
11. Mario Badescu Rose Water Spray
For a finishing touch or an afternoon refresh for the skin, try a few sprits of the Mario Badescu Facial Spray formulated with aloe and rosewater. This has been one of my favorite products for years and part of that is the price, $7.00 for 4 ounces or $12.00 for 8 ounces. This product works to boost hydration in the skin, allows your makeup to last all day, and even can be used to dampen your makeup brushes or sponges before you apply your makeup products.
Shop this product:
Glow from within by using these gorgeous products! What are your favorite skincare and beauty products to make your skin glow? Let us know in the comments!
Featured Image Source: https://weheartit.com/entry/343567913?context_page=2&context_query=glowy+skin&context_type=search