Blazers are all the rage right now, but figuring out how to style one is challenging. The good news is that we have put together a list of 5 ways to dress a blazer so you can look trendy and chic at the same time! Check out our list for all things blazer style.
1. Dress It Up
Dressing up a blazer is simple; with a few easy steps, you can add sophistication and chic to your blazer style. The first route you can take is throwing on a blazer of your choice with a mini dress. While wearing a dress already creates a more formal look, the addition of a blazer is an easy way to make your outfit look more put together. Whether you prefer to wear your blazer on top of a mini dress or a long dress, your outfit will look amazing either way! We recommend going for more neutral colors such as beige and white if you are looking for a more dressed-up and formal look. The best material to go for this look is a sleek satin that will make you look like a trendy princess! In addition, throw on accessories such as pearls or a fashionable handbag to complement your outfit in the best way possible.
Another way to dress up your blazer style is to simply turn your blazer into a dress! This twist to your 'fit will make you appear sophisticated and formal while still remaining cool and trendy; it serves as the perfect ensemble if you are looking to dress up your blazer! By opting to wear heeled boots or matching your blazer with your shoes, you can ensure that your outfit is dressed up to its fullest potential.
2. Dress it Down
It is definitely important to recognize a more casual blazer style, as that is a more everyday look that we can opt for. Here's some good news for you: There are many different ways to dress down your blazer as well so that you are able to wear yours more often! First, a quick and easy casual blazer style that requires very minimal effort; all you need to do is put on a t-shirt and jeans like you normally would but then throw a blazer on top! It is pretty difficult to go wrong with this one, and adding in a pair of sneakers will put the finishing touch on your model-off-duty look! Make your top a graphic tee for a more laid-back vibe to make your fit even more relaxed.
Another way to dress down your blazer is even more comfortable and easy: Throwing a blazer on over your sweatpants. I know what you are thinking, "There is no way a blazer and sweatpants would look good!" Well, we urge you to take a chance on the idea. Something about the combination of casual and business apparel makes a fit seem both fashionable and comfy all at the same time. The best part about this is that it is so easy to just throw on the blazer of your choice over a pair of sweats; if you want to amp up your outfit add in fashionable jewelry and sunglasses to ensure you maintain a stylish edge!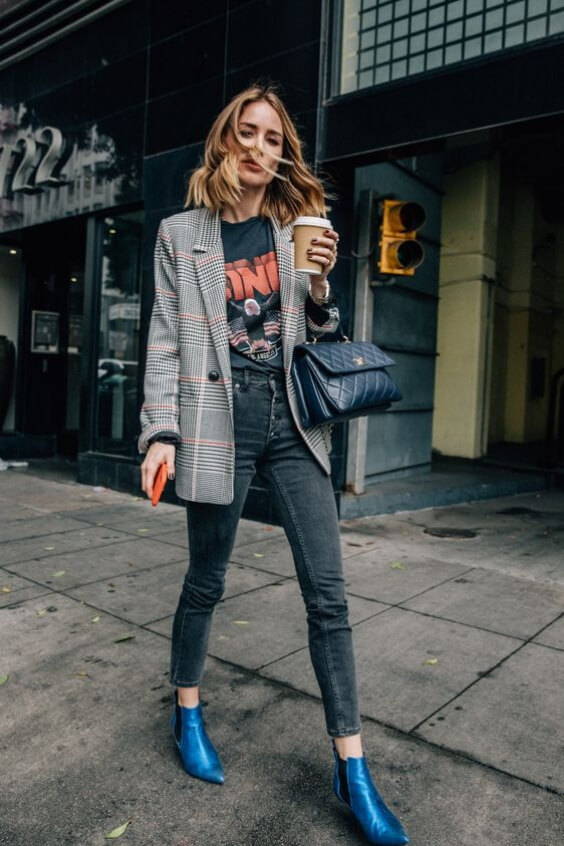 3. Make it Match
To spice up your blazer style, try making your outfit match your blazer! This can be accomplished in a variety of ways, including acquiring a blazer set that already includes a matching top and bottom. These are easy to come by and come in a variety of styles and patterns, including a set that includes a skirt, pants, or shorts! Purchasing a blazer set is an easy way to create a chic outfit without needing to put much thought into creating the ensemble. Add a personal touch to the ensemble with stacked necklaces or a pair of fashionable sunglasses; anything you wear underneath the set, as well as the shoes you choose, will ensure that your look is complete. For example, add a pop of a different color to your set; Hailey rocked a brown blazer set complete with pants and a top, then chose to add a pop of vibrant red through her shoes and her lipstick shade.
Blazer sets are not the only way to create a matching blazer style! You might also go for a monochrome look, which allows you to coordinate your wardrobe by matching the color palette to all parts of your fit. Match your blazer by wearing pants of the same color as well as the shirt underneath; there are different ways to go about this depending on what you prefer! Wearing the same hue for your top and bottom, as well as complementing your ensemble with silver or gold jewelry, is one way to go. Another, perhaps more enjoyable, approach to match your blazer fit is to use different shades of the same color throughout your ensemble. Whether it's wearing contrasting colors of blue for your top and bottom or breaking up your light pink blazer set with a darker pink turtleneck, you will look classy and trendy at the same time. Don't forget to combine your accessories, such as purses and sunglasses, with your chosen color scheme!
4. Throw On A Bralette
Next on blazer style: Blazers with bras. Though slightly controversial in some opinions, we believe this look mixes a level of sophistication with a flirty and trendy twist. One way to go about this style is to pair your blazer with a mini knit bra; this creates a young and fun ensemble that still has a chic touch of class. Although this trend is more revealing, you may ensure that your fit is fashionable and that you feel more comfortable by adding necklaces or other accessories. When wearing a bralette with your blazer, your choice of pants to pair your fit with is limitless! Your options include jeans, biker shorts, sweatpants, trousers, and whatever else you can think of, depending on how formal or casual you want to appear. Be sure to play around with your color choices and never be scared of trying new and different combinations, such as the green blazer you see on the left or the capri leggings you see on the right!
If you are looking to go in a more formal direction, substitute the knit bralette with a lace one! Adding a little lace to your fit can instantly add a sophisticated and flirty touch to your ensemble; there are methods to achieve this without going completely out of your comfort zone! For example, going for an all-black ensemble and pairing your blazer with a lace-trimmed bralette is an easy way to only add a subtle hint of lace. If you are looking for more coverage while still remaining chic, try a lace bodysuit or strapless corset top instead!
5. Don't Be Afraid To Be Bold
Last on today's blazer style guide: Don't be afraid to be bold. The blazer queen herself, Hailey Bieber, has taught us that the bolder you are the better! So don't be afraid to purchase that blazer that has been sticking out to you, whether it has a funky pattern or bold bright colors you will rock it. When wearing a bolder blazer, it's still crucial to make sure the rest of your ensemble is cohesive. A patterned needs to be the center of attention, so make sure what you're wearing underneath doesn't clash! We advocate wearing yours with a casual fit underneath; this might mean wearing all black or a sweatshirt and jeans, as long as it doesn't distract from the main event.
If you're going to wear a bright hue like neon green, we recommend keeping the rest of your outfit simple to avoid overdoing it. Another recipe taken from Hailey, this time for matching your shoes to your blazer. Matching your shoes and handbag, especially when utilizing such a bright hue, is a great method to ensure that your outfit remains cohesive.
If you want to be bold yet in a subtle way, try a plaid-patterned blazer or a jacket made of a unique material like leather. Leather will always be unquestionably chic, especially as a blazer, no matter how you wear it. Nothing says sophistication like plaid, and it also allows you to create a more daring look without having to venture too far from your comfort zone.
Does anyone else feel like running to the mall and buying a million blazers? We hope you've been inspired by this blazer style guide to create some fabulous and sophisticated looks!