Between 2013 and 2018, the amount of time that people spent watching videos online increased at an average rate of 32% per year. According to the same report, Zenith predicts that the average person will spend 100 minutes a day in 2021 watching videos. To put that in perspective, that's 25 whole days. Marketers need to take note of this if they want to plan on developing their video marketing strategy on social media.
Luckily for us, there are many ways that video can be used in social media marketing. We're not limited to TV-style ads or perfectly polished educational videos. With the introduction of Live streaming videos, an interest in brand authenticity and accessible editing apps, it's easier than ever to dip your toes into the video marketing world.
Follow our 7-step guide to creating a successful social media video marketing strategy.
1. Set goals for video marketing
At the beginning of any new social media undertaking, there's a need to set goals. What do you want your videos to accomplish? Where in the marketing funnel will these videos fall?
If you're just starting out, we recommend creating only a few goals so you don't become overwhelmed. An example of a video marketing goal would be creating brand awareness. As we'll discuss later on, this becomes specifically tied to the type of video you'll produce and inform your future videos.
For some brands, videos are used heavily for advertising. They may start on a product page on the website and then branch out to land in a social ad. Others create videos only for social media ads. This is especially useful for direct-to-consumer brands like Lo & Sons, where product videos are necessary to help the consumer picture themselves with the bag. In the below product video, it highlights one feature on a bag that addresses a common issue people face when traveling. It's relatable and short. The video can not only be used in Facebook as a feed post but can also be promoted as a social ad.
No more airport meltdowns! One of the biggest design updates that's included in The O.G. 2 is that the laptop compartment is now separated from the main interior compartment and directly accessible without having to fumble through the rest of your stuff that's packed away on the inside. Learn more here: http://bit.ly/2nD6ZED

Posted by Lo & Sons on Thursday, September 26, 2019
There are five stages of a marketing funnel and videos can fall easily into each stage, as long as you develop your video content strategy to intentionally target these stages. As you reflect on what your goals are for video marketing, consider where they'll also fall in the funnel.
Setting your goals and identifying the funnel stage will help you create highly effective calls to action in your video content.
2. Decide on your platforms
Every major social media platform and beyond has its own form of video. Older platforms like Facebook offer several types of videos while newer ones like Snapchat and TikTok rely heavily on one format.
If you've never used video on any platform, begin with the ones where you already have audiences established. According to Statista and data collected in February 2019, audiences on Instagram, Facebook and Snapchat spend around half of their time on the network watching videos. Choosing any of these three to begin your video marketing would be a good first step.
Another consideration for choosing the right platform for you is understanding what each one offers and what video dimensions can be displayed. This is important because if you'd like to repurpose your videos, it's best to choose platforms that complement each other.
Social media video formats and features
As different social platforms continually add more features, it can be hard to keep track of what type of video content can be uploaded where, or when you might need to do some additional editing. See below for a quick reference and our full video specs guide for all the details you need to upload on each network.
Facebook
Instagram
Twitter
Landscape and portrait feed video
Livestream
Stories content (Twitter Fleets)
Landscape feed video
Livestream
YouTube
Landscape video
Portrait video (may use pillarboxing on some uploads)
Livestreaming
Short videos (portrait)
Pinterest
TikTok
Finally, if you're looking into recurring series, such as product how-to guides, take a look at networks like YouTube and Facebook where you can categorize them into playlists. Instagram recently added a series option for IGTV, too.
Bon Appetit's social media content includes a heavy dose of video, customized for different platforms like Instagram and YouTube. Not only are the orientations different but the topics and series also vary between platforms. This diversity of content ensures that the audience will find original content no matter which Bon Appetit social media page they're on.
3. Select your video types
There are many types of videos out there, and we don't mean where the videos will be placed–social media video can be used for many different purposes to support your overall content strategy. Determining the type of video that works best for your brand is an important step in your marketing strategy. Not all videos are made the same and that's okay–what is most important is that they are supporting your key goals.
Here are a few different types of videos and their benefits. There are plenty of other social media video ideas out there that you can try out.
Educational: These are informative and can create brand awareness for new customers. They often take a less casual and more polished tone and establish the brand as an expert. If created for current customers, then the videos could be focused on guides and tips for getting the most out of your product.
Behind-the-scenes: These give a look into company operations and employees. They sometimes serve to entertain the audience or give a virtual peek behind the curtain.
Interviews: With guest speakers, interviews are a great way of introducing your audience to a new influencer and vice versa. Handing the virtual mic over to a guest can be fun and provide a little more authenticity to your brand.
Entertaining: These include jokes, cute puppies and even pranks. They serve solely to entertain the audience but can be a great way of emphasizing your brand voice and building a sense of community among your audience.
Testimonials: In marketing, these videos look like customer highlights and help to create social proof for your brand. Videos that showcase how a customer uses your product or service and their satisfaction with it operate on a connection level: ideally, a potential customer will see themselves in that video and be persuaded to purchase.
According to one study, 48% of consumers want the video to reflect the specific product or service that they own or are interested in. If you're spinning wheels on which type to focus on, go with this one first.
Once you've determined which types of videos to tackle, it's time to move onto planning the actual video.
4. Plan the content production
A good content production plan will save you time and money in the long run. Whether you plan it with a flowchart or old-fashioned pen and paper, you need to know how videos will be created and filmed.
You have options for content production and post-production. Hiring an agency or production company will alleviate a lot of the stress in steps 4 and 5. They'll handle all fo the planning and approvals, you just need to give the guidance.
But if you're planning on doing this all in-house, you'll need to think about all the steps for a video. This includes but is not limited to:
Identifying needed equipment and props
Writing a script
Editing the script
Storyboarding the video
Planning the shoot for optimal filming. Filming won't be linear for the most part.
Gathering the right people who are featured
Identifying the place(s) you'll film and taking natural daylight into consideration for timing.
Knowing where to send the footage to be edited
Determining who will do the approval sign-offs for each step. For example, you want to make sure that the script sounds good and is in line with your voice. This might require two people to review it.
Checking that the music you're using is licensed for you
As you run through the content plan, you'll find some ways that you need to tweak it or things you missed earlier, especially if this is one of your first efforts putting together a comprehensive video content plan. After a solid plan is executed, it's time to move on to post-production.
5. Know what post-production entails
You want to allow plenty of time for post-production, especially if your videos will be used for ads or are have heavier editing needs. Post-production does not mean just cutting scenes and putting them back together to music. It also includes additions like closed captions, text overlays, call-to-action screens and more. The more you film and the more polished you want it, the more time you'll need.
Some videos will only need a light post production. In the above examples, Epic Gardening used both Live video and a pre-filmed, uploaded video. The Facebook Live video is published immediately after it ends. You'll be able to edit the caption and title but not much else.
For uploaded videos, they'll go through the post-production process. On YouTube, for example, you'll be able to add tags, multiple language closed captions, detailed captions and more.
Know what you're getting yourself into before you start: formal, polished videos on YouTube require a lot more work than a basic livestream. Since YouTube is a video platform, you'll need to optimize your words and visuals to solidly stand out.
6. Schedule & promote the videos
Now that you have the completed video, it's time to schedule and promote it. Some management platforms like Sprout offer publishing options for videos.
Sprout's YouTube publishing options include details like tags, category, playlist and privacy settings.
Don't think of videos on social media as one-and-done. One fully produced video could be uploaded to several networks over a month-long time period, depending on your social schedule. On Twitter, you could promote it many times. For livestreams, you'll need to promote often to ensure lots of people will join in at the right time.
One film recording session could produce multiple videos. Different clips could be used for promotion or spliced together to create new videos. Think big when you're promoting videos.
7. Understand & analyze metrics
The last step in any strategy is the most important of them all: analyzing it. You won't know how a video performs unless you take a look at the statistics associated with it. What are the view counts? The watch times? The shares and likes and comments? Each network provides different sets of metrics so it's important for you to know what they are before you start in on production.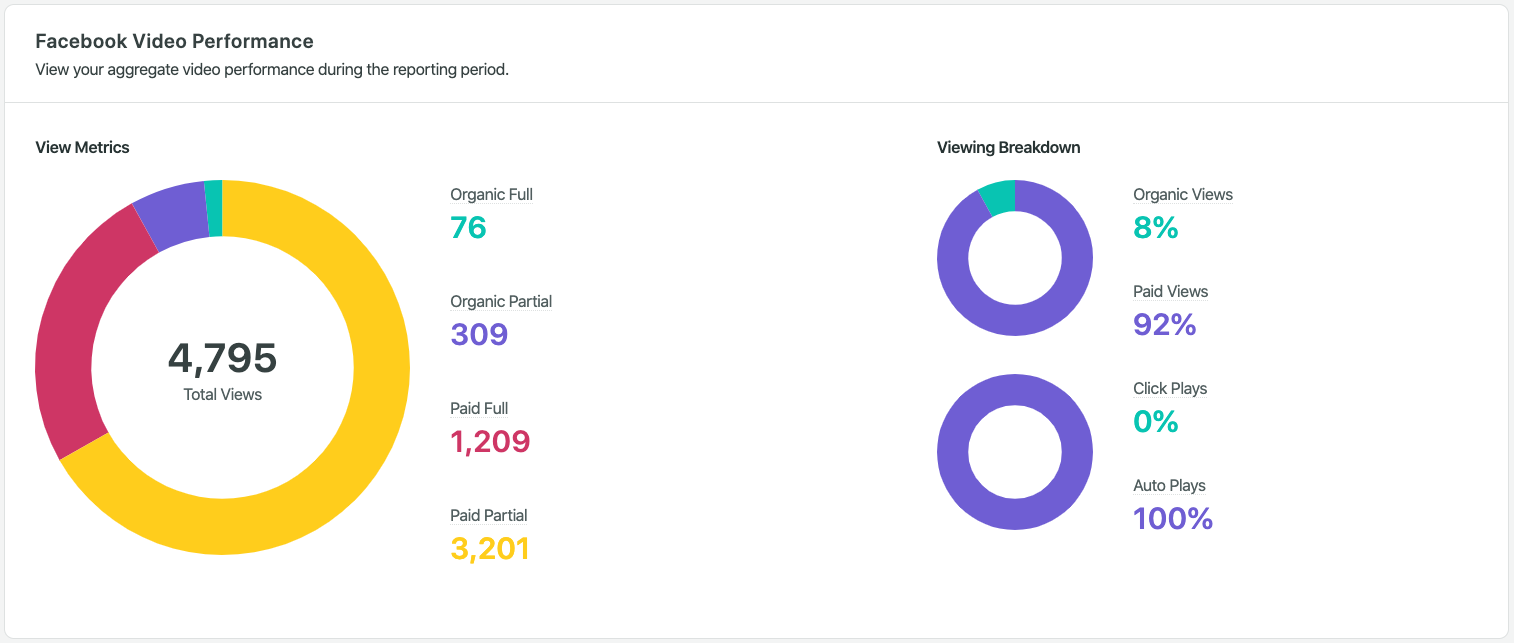 Each platform has native analytics that will tell you how each video performed, sometimes even down to how many people watched the first three seconds of your video. The metrics you use to analyze success should match the goals you set in the beginning. If you wanted brand awareness for a video, your call-to-action might be to include a website link for viewers to learn more about the product. The matching metric would be link clicks.
It's also important to keep in mind that even older videos will be watched. With the right combination of keywords and an evergreen topic, a three-year-old video might still be relevant to your users today.
And there you have it! A full 7-step guide to creating your video marketing strategy. We hope this helps inspire your brand to plan your next set of videos or to go deeper into learning about social media videos.