​Dillian Whyte had an incredibly awkward exchange with 'Big' John Fury during weigh-in day as he hilariously mistook him for Steve Bunce. 
Whyte was being interviewed by Dev Sahni with Tyson's father, John, stood alongside the WBC contender. 
But it took 'The Body Snatcher' a fair bit of time before realising he was stood next to the man himself. 
He thought John was Steve Bunce, who has provided content for Frank Warren and BT Sport during fight week.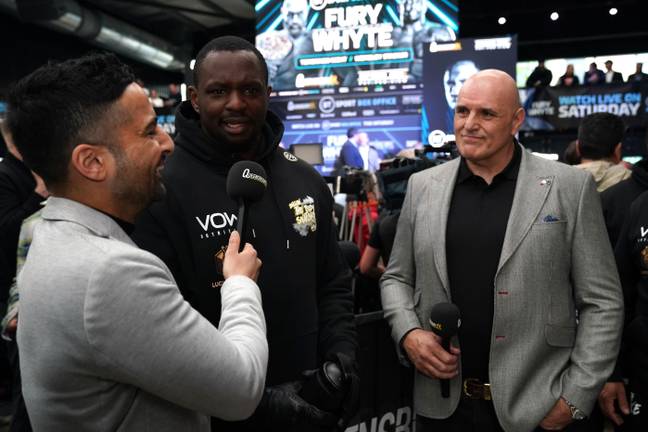 Whyte was in disbelief when Dev pointed out to him that he was actually standing alongside John all that time. 
"John's here. This is quite a unique position," said Dev to which Whyte replied: "Who?!!
Dev added: "This is 'Big' John Fury."
Whyte replied: "I thought it was Steve Bunce"
The brilliant moment between Whyte and John sums up the batsh*t-craziness of fight week and it comes after the Brixton fighter offered the 57-year-old a bareknuckle fight with his own dad.
"If John Fury wants it, he can fight my dad," he told iFL TV.
"And my dad's older than him. Not boxing… he can have a bare-knuckle fight with my dad. Anytime, anywhere.
"We can set it up and my dad would bash him in. Smash him to bits."
Speaking exclusively to SPORTbible courtesy of Freebets.com, John hit back: "I could definitely beat his dad. I could beat [Whyte's brother] Dean, never mind his dad.
"After the fight, on Sunday morning, I'll take on all comers and goers. Car park, shirt off. Whoever wants to fight me, you're welcome to it. I'll fight his dad, no problem."
When asked if he would consider facing Whyte's father in the boxing ring, Fury added: "No. I'm not interested.
"For me to enter the ring, I would need a million bucks. He can fight me in the car park for free."